Super Singer is one of the most popular music reality shows televised on Star Vijay TV. The show made its debut in 2006 and has completed 6 seasons successfully and entered its 7th season in 2019. Super Singer Vote show is a hunt for the best singing voice from the statewide auditions held across South India. Selected contestants from these auditions will perform many competitive rounds and they will be guided by the top playback singers. Every week the contestants will be filtered by judges and the public through online votes. The contestant who makes to the finals will receive special training from voice expert Ananth Vaidyanathan.
The first five seasons of Super Singer show was sponsored by Airtel. Since then, it was popularly called the Airtel Super Singer. Then the show was bankrolled by many top brands like Nippon Paints and Asian Paints. Super Singer show hunts the singing talents separately by hosting two different shows. One is Super Singer Junior (for the age group of 6 to 15) and other is Super Singer Senior (15 & above). And these shows are conducted alternatively every year. So far both the shows (Senior & Junior) has completed 6 seasons successfully producing a lot of young talents to the Film industry.
Priyanka, Aajeedh, Alka Ajith, Spoorthi, and Preethika to name a few. Not only winners, all the deserving talents from all the seasons are making their mark in the music industry. Super Singer Senior has produced playback singers like Nikhil Mathew, Ajeesh, Saicharan, Diwakar, Pooja and more.
Super Singer Season 1 title winner Nikhil Mathew recorded his first song as a playback singer for music director Harris Jayaraj for the tamil movie 'Bheema'. Airtel Super Singer 3 Runner Pooja Vaidyanath had worked with AR Rahman in his Hindi film Raanjhanaa and recorded the song "Tum Tak". She has sung more than 10 songs in Kollywood industry and most of them are top grossed. Some of the popular songs are "Pakadha Pakadha" from Varuthapadatha Valibar Sangam (2013), "Yeppo Maama Treatu" from D.Imman's Jilla (2014) and "Aalaporan Tamizhan" from A. R. Rahman's Mersal (2017). Super Singer Junior fame Priyanka has a huge fan base for her lovely voice. She is famous for singing the song "Chinna Chinna Vanna kuyil" which has hit millions of views on YouTube and in other social media.
Super Singer show has many number of competitive rounds in different genres including the chief guests of that particular genre. Some of the popular genres are Classical, Pop, Rock, Folk, Devotional, etc., Also the participants from the previous seasons will accompany the current participants to guide and encourage them to perform better. The contestants despite winning, get a chance to perform in front of the legendary singers and musicians like MS Viswanathan, Shankar Ganesh, AR Rahman, SPB Balasubramaniyam, S. P. Sailaja, Shankar Mahadevan, Jency, Malaysia Vasudevan, Sirkazhi Sivachidambaram and many.
If you start watching the Super Singer Show, it will make you blend with the music and you may never miss any of the episodes since then. Apart from singing, the show will also have some funny tasks from the hosts which makes the viewers more interesting to watch.
Super Singer Vote Season 7 Online
Super Singer Registration Process
The statewide audition for Super Singer Show will be conducted every year. The registration process is pretty simple, as the super singer team will conduct state-wise auditions and there is also an online registration process. Participants can also register through WhatsApp. Simply record your voice as an audio or video and send it to 9840657677 along with your personal details. After the process, the team will come up with 20 contestants to begin the show finally.
Super Singer Voting Season 7 Process
Super Singer Season 7 Vote: There are some people who don't know how to vote for their favourite contestants in the Super Singer. Every week two or more contestants will be pushed to the danger zone based on the marks they have scored. To return back to the safe zone and to continue in the show, they will have to survive bu getting votes from the audience. The viewers can vote for the nominated contestants by Google Online voting. Previously there were Missed call voting and SMS voting, but as of now, we have only online voting through Google. The Contestants who get the least number of votes from the audience will be eliminated from the show.
Here we will guide you with step by step procedure where you can save your favourite contestant from elimination by Vijay TV Super Super Vote Today.
Go to Google and Sign in to your Gmail account.
Then type "Super Singer Vote"
The nominated contestant list will appear on the screen
Just click on your favourite contestant who you wish to vote.
You can also split your vote if you wish. Click on the contestant and select the number of votes.
Now, click on the Submit option to confirm your votes.
Super Singer Vote Results and Eliminations Season 7
Contestants move on to next round by audience voting, the results of the latest voting are provided below.
Week 1: Super Singer Week 1 Voting has started.
Super Singer 7 Contestants List
Super Singer Season 7 Timings and Details
Super Singer Season 7 premiered on April 27, 2019. The show will be aired on weekends from 7PM to 9 PM. After the contestants was nominated by the judges, the online voting will be opened in google. Super Singer Voting Starts on Sunday, 8.30 PM and ends at 12 PM on Tuesday. You can also watch Super Singer latest and full episodes on Hotstar.
Super Singer Season 7 Judges
Benny Dayal, Swetha Mohan, Anuradha Sriram and Unni Krishnan are the judges of Super Singer Season 7. Unnikrishnan is an an Indian Carnatic vocalist and playback singer. He was one of the permanent judges in Super Singer show in seasons (2006, 2008, 2010-2011, 2013, 2015-2016, 2018). They will guide all the participated contestants in the show and also will nominate the contestant who didn't perform well. The show separates the judges into two teams and both the teams will select the contestants they want in the first episode of the season. In this season, rockstar Anirudh Ravichander is the guest judge who will accompany the contestants to add more buzz to show.
Super Singer 7 Hosts
The show is hosted by Ma Ka Pa Anand and Priyanka Despande. Earlier, actor Sivakarthikeyan, Divya Dharshini and Bhavana had hosted this singing reality show. Anchors are the main pillars for this show as Ma Ka Pa and Priyanka duo makes ultimate fun and entertain the viewers with their tasks and funny games.
Super Singer Season 7 Contestants
Here are the Super Singer Vote list of top 20 contestants of Season 7.
Sowjanya
Sowjanya is a singer from Andhra. In the intro round, she impressed the judges by singing Nada Vinodangal from the movie 'Salangai Oli' with Shivangi and Vaishagan.
Shivangi
Shivangi is another contestant from Tamil Nadu who has participated in the show to prove her singing talent.
Vishagan
Vishagan is a singer from Kerala. He looks innocent and seems silent on the stage.
Sahana
Sahana is one of the participant in super singer senior season 7. She is an Engineering student.
Roshini
Roshini is already a playback singer who has sung several songs in Kollywood previously.. She is from Chennai and has participated in the show to showcase her singing talent.
Suganthi
Suganthi is a folk singer. In the first round, she sung a folk number along with Kannagi.
Kannagi
Kannagi is a folk singer from Kanchipuram. She had dreamt to be a singer since childhood. Folk (Naatu Pura Padalgal) is her favorite genre from her young age.
Vikram
Vikram is a young talented singer from Ambattur, Chennai.
Mufeeda
Mufeeda is a singer from Calicut, Kerala. She had already participated in the singing reality show Idea Star Singer 2007 telecasted on Asianet.
Lakshmi Priya
Lakshmi Priya is a singer from Neyveli. She impressed the judges by her flawless singing on the intro round.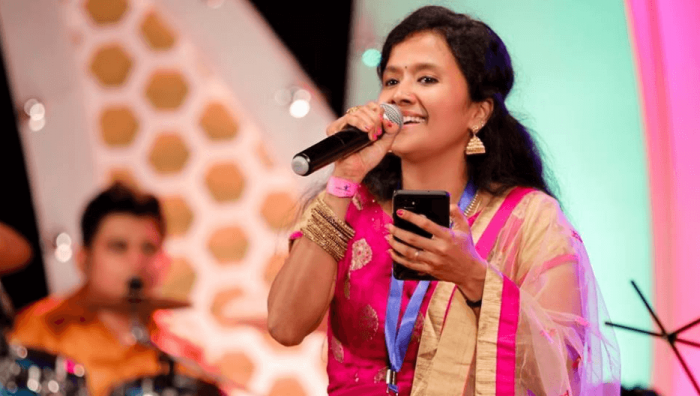 Murugan
Murugan is a farmer by profession. He was also a stage performer who has sung many number of songs. Previosly, he has participated in Lalithavin Pattuku Pattu hosted by B. H. Abdul Hameed.
Parthiban
Parthiban is a Nadaswaram player and singer from Cuddalore. He is playing Nadaswaram for the past 15 years.
Punya
Punya is hailing from Edgware, London. She is a doctor by profession. Since she had so much interest in music & singing, she left her profession and participated in the Vijay TV's Super Singer show.
Yogi Sekharan
Yogi Sekharan is a musician and singer. His native is Ulundhurpettai, Villupuram district.
Poornima
Poornima is a singer from Chennai. She passed her Chatered Accountant in her first attempt. As she is very interested in music, she left her job for her passion.
Guna
Guna from Vysarpadi is a Marana Gana singer. He just impressed everyone by singing a folk number in the intro round.
Abhinav
Abhinav Kumar is a Gana singer from Kumbakonam. He has completed BA Indian Culture and Tourism.
Gautham
Gautham is a singer from Thanjavur. His father is a police officer. In the intro round, he impressed music director Anirudh by singing a song 'un vizhigalil vizhuntha naatkalil'.
Sam Vishal
Sam Vishal is a young talented singer from Chennai. He sang un vizhigalil vizhuntha naatkalil from the film Maan Karate.
Sindhuja Suresh
Sindhuja Suresh is yet another contestant in Vijay TV's singing reality show. After her debut performance, she received compliments for her soothing voice.
Super Singer Winner 2019
After several competitive rounds, the filtered contestants will perform in the grand stage in front of music celebrities and thousands of people. The super singer winner will be selected by the public through online voting along with the marks given by the judges. The winner of the season 7 will lift the trophy and also awarded a house worth Rs 50 lakhs. Also, he would get a chance to sing for music composer, Anirudh Ravichander. The first runner-up will be awarded with a jewel of worth Rs. 25 lakhs.
List of Super Singer Winners So far
Grand Finalists
Super Singer Season 1 (2006)
Nikhil Mathew
Winner
Anitha V. Karthikeyan
Runner-up and Viewer's Choice
Sowmya Mahadevan
Jury's Choice
Super Singer Season 2 (2008)
Ajeesh
Winner
Ravi
Runner-up
Renu
3rd Place
Prasanna
Eliminated in Finals
Ranjani
Eliminated in Finals
Super Singer Season 3 (2010-2011)
Saicharan
Winner & Viewer's Choice
Santosh Hariharan
Runner-up
Sathya Prakash
3rd place & Judge's Choice
Pooja Vaidyanath
Eliminated in Finals
Super Singer Season 4 (2013-2014)
Diwakar
Winner & Viewer's Choice
Syed Subahan
First Runner Up & Judge's Choice
Sarath Santosh
Second Runner Up
Sonia
Third Runner Up
Parvathy
Eliminated in Finals
Super Singer Season 5 (2015-2016)
Anand Aravindakshan
Winner
Fareedha
First Runner Up
Rajaganapathy
Second Runner Up & Judges' Choice
Siyadh
Fourth place
Lakshmi Pradeep
Fifth Place
Thanks for visiting Super Singer Vote Online, for queries comment below.